***************************************************************************************
Chapter Project The Classic Bi-Plane
Eugene Naves will be proposing a Builders Group, to build a Fisher Flying Product, "The Classic Bi-Plane". This Bi-Plane is a fun plane to fly and the cost is held to a minimum. Eugene is proposing that our Chapter pay the first $10,000 of the project. The rest of the money would come from the Builders Group. Depending on the Engine and options, with about 12 members, other than myself. The Buy In would be about $1,000 to $1,500. You do not have to do any of the work to be a Builders Group member. For more information http://fp101.tripod.com/Project.htm or call Eugene 727-343-8034 and come to the Oct. 27, EAA Chapter 180 meeting.
EAA Chapter 180
Builders Project
1. Any chapter member can be a part of the Builders Group. (You do not have to do any of the work to be a Builders Group member).
2. The Chapter will support the Builders Group by paying the first $10,000 of the project.
3. One use will be for Young Eagles. Painted on the lower wing will be Young Eagles.
4. The plane will be flown by Builders Group members that have been checked out for Conventional landing gear. And a check ride with the Classic.
5. Any EAA Chapter 180 Member can fly with a Builders Group member.
6. Eugene Naves will head up the Builders Group, and will take the responsibility to ensure the completion of the project.
7. Eugene Naves will also provide the labor for any repairs and upkeep for the Classic.
8. Eugene will do all paper work needed for the project.
9. The Builders Group will have meetings to make decisions as needed.
10. The Plane will be kept at Manatee Airport.
** Obviously, this is not intended to give all information needed, but a very general concept.
FISHER FLYING PRODUCTS
The Classic
Two-place Biplane
Flying The Classic

Sharing the responsive flight characteristics of the 404, the two-place Classic also lets you share the experience with a passenger. Dual controls give you the option of front or back position, and an 85 mph cruise speed gives you just plain fun.

The two-place Classic represents a reborn era in airborne adventure. This bi-plane aircraft is a throw-back to seat-of-the-pants flying, complete with minimal instruments and bare-necessity controls. The sports car of light-planes, the Classic is a flying experience that will leave you flying.

Featuring short wings, four ailerons and a semisymmetrical airfoil, the aircraft answers commands instantaneously. Geodetic wood construction and additional bracing contribute to exceptional structural strength, enough to withstand higher Gs than most light planes.

For experimental models, a 64 horsepower Rotax engine pours out more than enough power for exhilarating, 800 feet-per-minute climbs and turns that will push you and your passenger back in your seats. The plane is as responsive as you are aggressive.

Classic

Two-place Biplane
Performance Specifications
Wingspan 22'............... Wing Area 154 sq. ft.
Wing Gap 41" / 38"............... Aileron Area 18 sq. ft.
Length 16'9" ............... Height 5'11"
Tail Span 84" ............... Engine Rotax 582LC 65 hp
Drive Type Geared ............... Reduction Ratio 2.58:1
Gross Weight 850 lbs................ Empty Weight 400 lbs.
Cockpit width 24" ............... Design Loads +6 -3
Fuel tank Capacity 8 gal............... Optional two 3 gal wing tanks
Max. Pilot Weight 2-200 lbs................ Construction Time 500 hrs.
Available engines---------582 Rotax, some are now installing the Verner 1400 80hp four stroke, 912 Rotax, Hirth 80 hp and Geo metro conversion.
Flight Performance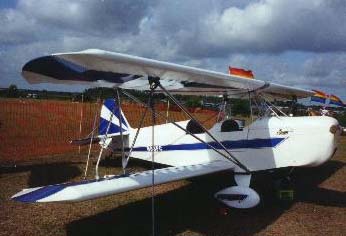 SOLO / GROSS
Velocity-Never Exceed........ 110 mph.................100 mph
Max Speed ........................... 90 mph.................. 90 mph
Cruise Speed................... 75-80 mph...............75-80 mph
Stall Speed ......................... 35 mph ..............38-39 mph
Climb Rate ........................ 800 fpm...................600 fpm
Glide Ratio............................. 8:1........................ 7:1
Takeoff Run............................150'........................200'
Landing Roll........................... 250' .......................300'
***********************************************************************************

PRICING

Airframe kit------$8,750

Crating-------------------------------200

Shipping---------------------------- 250

Wing tanks---------------$250 ea.

Manual Brake kit-------$196

Hyd Brake kit------------$650

Wheel Pants-------------$250

We get a 50% discount on shipping which is passed onto you.
Price quoted may vary depending on weight and shipper fuel service charges.

Gene Hanson FFP **********************************************************************************

The Classic is available as a complete kit — which contains everything you need

except:

instruments, paint, varnish and pilot restraint system.(No Engine,etc.)

Aircraft quality materials are supplied throughout;

you simply epoxy the wooden pieces together over the full-size plans.

After the woodwork is completed, it is sealed with polyurethane varnish,

covered with heat-shrinkable aircraft fabric, sealed and painted to provide

a long-lasting durable airframe.
**********************************************************************************

Some Questions that was sent to me.
These Answers are just one option and does not mean to be the only one....
Q. The Builders Group a sort of sub-club under EAA 180?
A. The Chapter 282, set up a Corporation. I will do the work. This can be set up as a Non Profit and the money each person puts up is a Loan to the Corporation.
Q. Will it have its own dues?
A. No. Each time the plane is flown the member would pay about $10 to 15.00 hour plus Fuel.
Q. There will be some money needed for construction in addition to the kit (engine, odds and ends for jigs, worktable, etc.).
A. From the Builders Group. Depending on the number of members a set amount buy in
Q. Who will provide the space in which to build the large structures?
A. Eugene Naves. The Kit will be sent to my house where I did my FP101.
Q. I can see something of a cottage industry building ribs, elevators, stabilizers and such, but to disperse the building of major structures (wings, fuselage) would entail building multiple worktables - an onerous and expensive undertaking.
A. ? does any of the members already have worktables.
Q. As for tools, a bandsaw and drill press will be essential, as well as a multitude of clamps. There will doubtless be other highly useful tools I don't know about yet. Some of the requisite tools are already available in the Club's "Tool Lending Library", but probably not all.
A. Each builder will need to have there own tools.
Q. As to use of the completed airplane, I kinda think it should be open to the entire membership of EAA 180 (since they're paying for it),
A. The Builders Group members can only be Chapter 180 members. When a Builders Group members no longer want to be a part of the group He / She will have a 180 member buy in. The Chapter is putting up the start up money. And the plane will be used for Young Eagles and Flying Start.(as part owner) or the chapter members can vote to provide the $ 10,000 and at the time the kit is done have the Builders Group members pay the chapter back.
Q. as long as a prospective user gets the appropriate checkout (taildragger training, check flight in the Classic). Even if usage were limited to the Builders Group, a fair way of sharing the plane's use among those who wish to use it would have to be addressed.
A. there is a number of ways to do this that works.
Q. Will EAA 180 be responsible for ongoing expenses in the maintenance of the plane?
A. No
Q. The expenses which come to mind are hangar rent, insurance (if available), airframe and engine maintenance costs.
A. After the flight time money is used and if there is added cost, the amount will come from the Builders Group members.
Q. Will the plane be built as an Experimental under the 51% rule? >br> A. Yes
Q. If so, who will be the builder of record?
A. Eugene Naves
Q. This question may already have an answer, as the Classic would not be the first group effort to get an airworthiness certificate. It could be built as an Experimental Light Sport Aircraft (ELSA), but I don't know the rules pertaining to that, except that the builder would have to go to class to get a repairman's certificate to do annual inspections. Much more is required to do repairs on ELSA. If this whole project finds favor with EAA 180, you should contact the FAA Flight Standards guy and ask about ELSA versus the 51% route.
A. 51% route.
STATEMENT. You might wish to suggest the involvement of young people associated with the Club (children, grandchildren, nieces, nephews, etc.) in the building effort. It may be more trouble than it's worth, but it is certainly worth some discussion. It would certainly be an educational experience for any kid with sufficient motivation and dedication. If it were me when I was 16 or 17 years old and I had had such an opportunity, I'd have thought I'd died and gone to Heaven!
Q. A final thought is that maybe it would be a good idea to consider providing the Club with a choice among the FFP fleet. I'd push for a biplane as well, but the membership might like to have a look at the Celebrity and the R-80 Tiger Moth as well.
A. After looking at all three bi-planes, the Classic is the best way to go for what I'm trying to do. Once this one is completed someone else may want to do another one. Really want to keep this as simple as I can. The chapter 47 tried to do a Builders project and never got it off the ground. One, they made the whole thing to complicated. Two, their was no one person willing to see the project would get done. Chapter 282, kept it simple and had one person that did most of the work. There project is Flying. *********************************************************************************************
Flying the R-80 Tiger Moth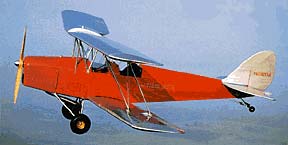 Now you can relive a part of world history when you fly your own replica of the DeHaviland Tiger Moth. You will sense the moments in history when thousands of British Commonwealth pilots were learning to fly in preparation for their part of World War II. With your leather helmet, goggles, gauntlets, and flying coat, you can relive some of the glory in aviation's golden age. All of the excitement, charm, and nostalgia will be yours-except the expense of owning and maintaining the original DH82 Tiger Moth.

After flying the FP R-80 Tiger Moth, KITPLANES magazine writer, Ben Millspaugh said, "She flies beautifully. Ground handling is exceptionally easy and I'd recommend this airplane to anyone who is a first-time builder or any pilot with little or no taildragger time."

Design

The R-80 Tiger Moth is 80% scale of the original DeHaviland DH82a Tiger Moth.

Construction

The R-80 Tiger Moth is recommended for both first-time and experienced builders.

Only basic tools are needed in construction.

Builder assistance is readily available by phone or fax.

Realistic estimates put construction time at 700 hours.

Wood has been called "Nature's Composite" and the R-80 construction is straight-forward and strong. Aircraft grade state-of-the-art epoxy adhesives are used throughout.

Considerable time has been spent on the design and structural integrity. Initially, the airframe was designed by an aeronautical engineer. A design engineer was then brought in to assist during the actual construction and modification stage. The airframe was then tested, by an independent firm that specializes in structural analysis, to a limit of six positive and three negative g's. At one point in this test, over 6,000 pounds of sandbags were on the R-80's airframe-and it didn't break. Properly constructed, this is an exceptionally strong aircraft!





R-80 Tiger Moth

Specifications

Wingspan 23' Wing Area 170 sq. ft.

Height 7'4" Length 19'

Seats 2/Tandem Range (12 gal fuel tank) 200 mi.

Design Loads +6 -3g Engine(used for data) Norton AE 100R

Horsepower 75-100 hp Gross Weight 1,150 lbs.

Cockpit width 26" Empty Weight 560 lbs.

Service Ceiling 10,000 Engine Weight 180-200 lbs.

Flight Performance

Velocity-Never Exceed 110 mph Cruise Speed 90 mph

Stall Speed 35 mph Climb Rate 800-1000 fpm

Takeoff Run 300' Landing Roll 400'

Available engines include, but are not limited to: 912 & 912S Rotax, Subaru, Geo Suzuki, Jabiru 6 cyl.

Now Standard

Matco wheels, hydraulic brakes, and two master cylinders, includes installation hardware.

Center section auxiliary tank (7.5 gallons) includes installation hardware.

Airframe Kit

$12,250

Incl. center section auxiliary tank (7.5 gal.),

MATCO 3/4-in. axles, wheels, hydraulic brakes and tail wheel.

exception of paint, varnishes, pilot restraint systems, instruments, and power plant.

Available engines: 912 & 912S Rotax, Suburu, Geo Suzuki, Geo Metro and Jabiru 6 cyl.

*********************************************************************************
Classic

Wingspan 22'

Wing Area 154 sq. ft.

Height 5'11"

Length 16'9"

Empty Weight 400 lbs.

Gross Weight 850 lbs.

Cockpit width 24"

Design Loads +6 -3g

Seats 2/Tandem

Fuel tank Capacity -----8 gal

Optional two 3 gal wing tanks

Aileron Area 18 sq. ft.

Engine Rotax 582LC 65 hp

Max. Pilot Weight 2-200 lbs.

Wing Gap 41" / 38"

Tail Span 84"

Construction Time 500 hrs.

SOLO / GROSS

Velocity-Never Exceed. 110.....100 mph

Cruise Speed... 75-80mph.....75-80 mph

Stall Speed ...... 35 mph .......38-39 mph

Climb Rate ...... 800 fpm............600 fpm

Takeoff Run......150'..................200'

Landing Roll..... 250' .................300'

Max Speed... 90 mph................. 90 mph

PRICING

Airframe kit--------------$8,750





Hyd Brake kit------------$650

Wing tanks 2 - $500

Crating----------------------150

Shipping------------------- 250

Total $10,300

.

.

.

Tiger Moth

Wingspan 23'

Wing Area 170 sq. ft.

Height 7'4"

Length 19'

Empty Weight 560 lbs.

Gross Weight 1,150 lbs.

Cockpit width 26"

Design Loads +6 -3g

Seats 2/Tandem

Range (12 gal fuel tank) 200 mi.

Norton AE 100R

Horsepower 75-100 hp

Service Ceiling 10,000

Engine Weight 180-200 lbs.










Flight Performance




Velocity-Never Exceed 110 mph

Cruise Speed 90 mph

Stall Speed 35 mph

Climb Rate 800-1000 fpm

Takeoff Run 300'

Landing Roll 400'


PRICING

Airframe kit--------------$12, 250

Matco wheels, hydraulic brakes, and two master cylinders, includes installation hardware. N/C

Center section auxiliary tank (7.5 gallons) N/C

Crating----------------------150

Shipping------------------- 250

Total $ 12,650.

$ 2,350/ 10 Members = $235.00 each